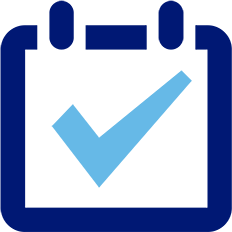 Business Planning Software Serves to Align People with Events
Synchronize Business Operations by Maximizing Calendar Visibility
One of the most frustrating areas experienced and expressed regularly by business professionals involves understanding and adjusting to the dynamics of corporate planning. When planning for important business events and activities, it is important to consider the flow of your communications. Whether a team member is a participant or volunteer at an event, having as much detail about the event as possible is very helpful. It serves to minimize confusion and streamline the communication process.
With Imagine Mobile Learning, business planning software is now more flexible than ever. When new events need to be placed on the calendar such as customer retention events, sales initiatives, department workshops, safety meetings, technology training, and others, you can notify and invite everyone who needs to attend with only a few clicks of the mouse. This is a major contributor to the success of your business. When your people can leverage a central calendar containing all relevent business events and activities, job satisfaction will increase for certain.
Keep Every Member of Your Team on the Same Page.
Schedule Business Training, Invite Participants, and Recruit Volunteers Faster
Why should training events and important meetings be difficult to plan and manage? Is there a way to automate the event management process? Imagine Mobile Learning comes along side your business to help you plan for corporate training events and important meetings. Our Manage Meeting module helps your team make business training and event planning simple. Through our automated business planning software, inviting participants to attend your events can happen through your smartphone, tablet, or personal computer. Think for a minute what you would do with all of that extra time?
Most corporate training and company-wide events require a generous amount of volunteers to make the training or the event a success. The planning process can be physically exhausting and mentally draining for everyone involved. There
are so many things to do and enough deadlines to meet. With these things in mind, there are people who must register to be a part of it all. Instead of sending out 500 emails to see who is available to serve as a volunteer, why not automate this process and remove the stress altogether?
Our business planning software gives you the ability to automate corporate training and other business events to better serve your people. Information regarding participants and voluteers is recorded and tracked in real-time. It can be downloaded, printed, or saved in the Cloud for when you need it the most. You no longer need to create endless spreadsheets to track all of this information. Everything is recorded and tracked for you automatically.
One of the benefits of business planning software is the ability to leverage technology to do the work for you. Would that make life at work easier for you?
Make Business Seminars and Workshop Planning Easy